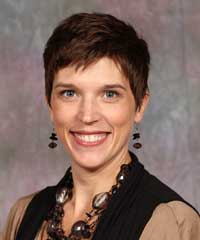 Professor
Literature Program Coordinator
---
Department
Role: Faculty
Campus: Springfield
---
Postal mail
Missouri State University
English
901 S. National Ave.
---
Biography
Dr. Shannon Wooden is a gender studies expert and professor of English. She specializes in British literature and teaches a wide variety of courses, from the Romantic/Victorian/20th century survey, to Critical Approaches to Literature, to upper-level courses in 18th and 19th century literature, as well as Introduction to Literature and Creative Writing: Fiction.
From her dissertation work on Darwinian evolution and race science in Victorian novels, much of her research has had to do with literature and science. After teaching in social medicine departments and participating in a narrative medicine workshop at Columbia University, she has further focused on the intersections between literature and medicine. Two recent articles deal with narrative medicine readings of Dostoevsky's "A Gentle Creature" and Mark Haddon's "The Curious Incident of the Dog in the Nighttime," respectively focusing on empathic reading as a worthy goal for literary pedagogy, and, through medical paradigms, one performable with critical rigor.
She has also published on Victorian women's sensation fiction, the 1990s film adaptations of several Jane Austen novels, Romantic and Victorian abolitionist poetry and representations of gender in the Pixar movies; her most recent book project, with co-author Ken Gillam, analyzes postfeminist boy culture as represented by Disney-Pixar.
---
Details
Education
PhD, English Literature, 2001, UNC-Chapel Hill
MA, English Literature, 1995, Missouri State University
BA, English Literature, 1993, Missouri State University
Teaching
English 200 Introduction to Literature
English 215 Creative Writing: Fiction
English 235 Critical Approaches to Literature
English 287 Life Stages in Literature
English 341 Survey of British Literature II
English 543/643 Restoration and Eighteenth Century Literature
English 544/642 Romantic Literature
English 512/618 The British Novel
Research and professional interests
British Literature
Literature and Science
Literature and Medicine
Gender Studies
Popular Culture
Pedagogy
Additional resources
---
Area of expertise
Literature
Gender Issues